This is another post that is long overdue, as Rachel's second novel was out in August.But it is also another book that will make a good Christmas present. So silver linings…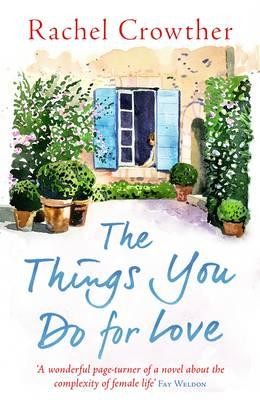 I was lucky enough to study with Rachel for two years, seeing first hand what  a fine writer she is. 'The Things You Do For Love' (Bonnier Zaffre Press) is her second novel, a great showcase for her talents.
When Flora's husband Henry dies after a long illness, her previously ordered existence comes to a dramatic end. Having taken early retirement to care for him, his death leaves more than one vacuum in her life, causing her to flee to France to reassess her situation.
Meanwhile her  baffled daughters have problems of their own. Lou's pregnancy puts her relationship in jeopardy, whilst Kitty is struggling to choose between love and her musical talent.
The novel flits between past and present, framed by a series of Henry's paintings. This is a clever device which enables the reader to see the truth behind the idealised image of family life that Henry is trying to portray and  helps get to the heart of Flora's ambivalent feelings towards him.
An emotional story told with great skill and empathy, this will be a perfect Christmas gift for anyone who likes women's fiction with more than a little depth.